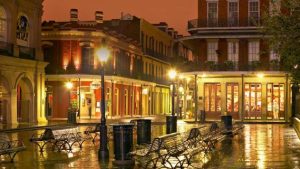 Property Management
Owning and Managing real estate can often be challenging and time consuming. Some owners have the time, knowledge and skills to do so while others want the advantage of owning or retaining real estate as an investment but they don't want to handle the day-to-day functions and responsibilities or they are not knowledgeable of the current laws. That is where Soniat Realty can help. Soniat Realty offers various management, leasing, sales and maintenance services which allow owners to select those that best fit their needs.
As a full-service real estate company we can review your property, make recommendations for rent amounts, policies, procedures and property upgrades to help maximize the income and increase property value. The Soniat Realty Sales and Management Team listens to the client and evaluate their needs to provide the services that best fit.
In addition to our full service package we do offer some services a la carte. Click here to see a side-by-side comparison of those services.
Click here to request a no-cost management proposal.
Soniat Maintenance Services (SMS)
A subsidiary of Soniat Realty, providing a full service Facility Management option for commercial and residential property owners which can perform a variety of functions depending on the specific need. We at SMS believe that working together with our clients as a team member and being proactive is the best approach in accomplishing our goals. Our staff of professionals are trained in the importance of responding quickly, efficiently and cost effectively to meet the needs of the customer.
Click here to request a no-cost management proposal.
Condominium & Association Management
Soniat Realty has managed quality condominium associations since 1980 and currently manages over thirty (30) associations throughout the metro area.
Our services include:
Collection of assessments
Monthly computerized balance sheets and income and expense reports to the Board
Pay association bills
Contract for and oversee services to the common areas
Review current operations and make suggestions to cut costs or improve services
Offer to pass on to associations special discounts available through our service providers
Communicate with owners or residents as needed
Attend regularly scheduled meetings of the board and the owners
Provide 24 hour availability for emergencies.
We work closely with a CPA to provide the annual income tax returns for the association. Automatic Bank Debit is also available. Our Goal is to maintain quality and improve services for the least expense to the association owners. Our professional, experienced approach provides structure, value and cost savings to our association clients. We may also provide accounting only functions upon request.
In a time when management companies come and go, our experience and proven track record of professionally managing condominium associations is evidence of the trust we have earned and the quality of the services which we provide to our clients.
Click here for a no-cost management proposal.
Click here to view a list of condos we currently manage.

Property Selling and Buying
In today's real estate market and internet world, it is easy to search for a home or put your home on the market to sell. The challenge is to take that listing or interest in a property to the conclusion of a sale or purchase. Let our experienced agents guide you through this process. Consider Soniat Realty as your real estate advisor when selling or buying. We can show you the market value, discuss market conditions, recommend lenders and inspectors, as well as assist with negotiations, contracts, inspections and vendor recommendation. Let Soniat Realty handle the details and assist you with your efforts to sell or buy. Our knowledge of the market and the changes that take place maximize the return of your property and allows buyers to get the best value for their purchase.
Click here for a free market analysis of your home or to request assistance with finding a new home.
Leasing Services for residential or commercial properties are available with or without Soniat Realty's management services. We recommend a market rent and any improvements to better enhance the value and marketability of your property. We market the property in the manner we have experienced to be the most effective. Our listings are posted on our Soniat Realty website as well as dozens of other partner internet rental search sites. We show the property to prospects and provide them with the convenience of being able to apply for the rental online. Once an application is received it is closely reviewed to make sure that the applicant meets our application guidelines. We practice Fair Housing guidelines. By maintaining consistent standards this protects you, the property owner, as well as ourselves. If the applicant is approved we can then offer them the convenience of signing the lease electronically which makes their leasing experience quicker and easier.
It is our goal to maximize your rental price and provide you the best qualified tenant for your property.
Click here for more information about this service.
Eviction Service
Are you having problems getting a tenant to vacate or with a tenant not paying rent? Do you need help to have the proper papers signed and have someone appear for you in court? For assistance, please contact 504-274-2814.
Caretaker Service
If you own a second home, vacation home or condominium in our area and would like the convenience of having a local company to call for repairs when needed, we can assist you. This service is also provided to lenders or others with vacant and/or abandoned properties which need to be kept secured and clean. Contact us to discuss your specific needs.